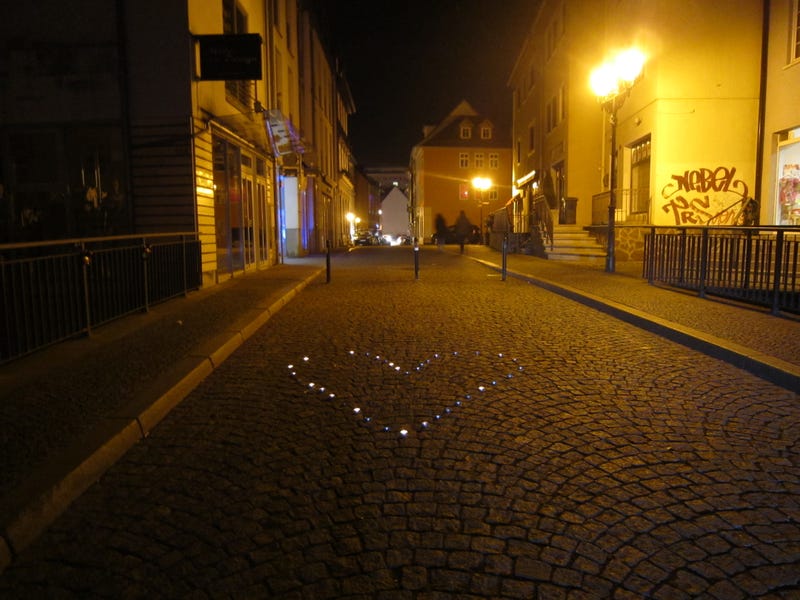 (I found this late at night on a bridge in Erfurt)
Yes, dreamcars are exciting. But for me being a Jalop is also about caring for the more or less normal cars out there. That's why I'm so fond of articles like the one about the Wagons of Williamsburg on Jalopnik. Apart from the cars they show, the pictures furthermore enable me to catch a glimpse of the US beyond Hollywood and tourist attractions.
So I thought you might be interested in sneaking a peek as well. Dim the lights and relax while I take you with me on a quiet night walk through Manual-Dieselwagon-Country.
In the small hours I was able to take pictures unhindered by traffic and possibly suspicious owners. I tried to catch the ordinary, the beautiful and the downright filthy things a Jalop will hopefully enjoy. The pictures were taken in Göttingen (the "ö" sounds a bit like the "u" in Pittsburgh), where I live, and while visting my sister in Erfurt (Heir-furt).
As I'm an avid reader of Jalopnik, I learned something very important early on: Always give a full disclosure before you begin.
(Full Disclosure: This project is meant to be simple fun. I'm not an experienced photographer, and my - borrowed - equipment is very basic. I had no interest in post processing the pictures although some might desperately need it. I also realize that some of the images could be too dark for your taste. This is partly pure incompetence and partly a conscious choice, since I favored a certain mood over details. You might have to toggle the brightness of your screen.)
Of course, you expect me to show you a few wagons. And I shall deliver. The natives over here call them "Kombis" (kombees, SG. "Kombi") which is short for "Kombinationskraftwagen". You don't need an Enigma machine to decipher that word. Especially the premium models are also referred to as "Lifestyle-Laster" (luster). "Laster" literally translates as "trucks". The term hints to the image wagons enjoy in Germany. I'd call myself a gearhead, but, remarkably, even I didn't notice how many kombis are actually crowding German streets until I stalked them. You know, the trees and the forest. So it didn't take long to stumble across nice photo opportunities.
Let's start off with a BMW and a photographic cliché. There is something strangely intriguing about cars captured off center in front of sprayed walls. This E46 Touring posed like a pro.
According to my sister the following picture is on the contrary not at all fascinating. For her it's outright "the most boring photograph" she has ever seen. But what does she know about a black Mondeo Turnier rocking steelies?
I'm not interested in motorcycles or mopeds. But maybe some of you will cherish this Simson even more than the E39 next to it. It is a Schwalbe (Schw-arzenegger and -ahl-buh, "Swallow"), by the way, and was produced in the GDR.
Not too long ago buying compact meant buying boring. The dented Corolla E110 shaped like a sleeping pill and the Soulless Misery Wagon Mk Generic next to it can vouch for that.
The arrival of the Focus was a gamechanger. The New Edge design brought fun and style into the class and was a hit. In fact, I battled the renowned german driver's ed in the 90hp TDDI hatchback version. And yes, manual.
The second generation with it's voluptuous lines is even a bit alluring, don't you think?
Let's move on to classics. A Lada Nova 2104 1700i wagon. It appears to be in good shape.
And i guess that is not a real surprise because in the rear window it states, "Lada doesn't promise, Lada guarantees."
I have to admit, i'd still trust the upcoming Lada more. The Niva seems capable of occupying any peninsula on it's own.
I found this old warhorse just around the corner. I have no idea what the story is here. Albeit they are known for their reliability, you don't normally see Baby Benzes being used as taxis anymore. Because I'm an idiot, I forgot to check the odometer. Would have been interesting to know what this car has been through already.
The specific sound those Merc diesel engines make is a leitmotif in my life. You heard them idling everywhere back in the 80s and 90s. And needless to say, this example misses the star above the grill. It's, for sure, the only part that had to be constantly fixed on these amazing cars.
Speaking of Mercedes, here is a true gem because it appears to be a very rare WRC homologation model. I've never heard about it, let alone seen one before. It looks like a daily driver too. There has to be an obscenely rich collector involved.
Cynics will argue that the Mercedes is strikingly similar to a Skoda Felicia. Real cardophiles, however, notice how different the bruises actually are. See for yourselves:
The two cars below couldn't be more different. One of them is a simple runabout you might hand down to your daughter, when she obtains her driver's license, the other is just a Corsa.
A hunkered down Passat B5 Variant shows off delicious fender flares. Is it just me or does the car look like a menacing guard dog lurking in the murkiness?
This Yaris D-4D is not at all special among the countless diesel hatches in Erfurt. And sadly the abondend building behind it isn't either.
Erfurt, like almost the whole of Eastern Germany, still suffers from the socialist heritage. In the late 80s the historic city center was neglected and the houses lacked modern amenities. After the reunification people gladly moved to the suburbs or migrated to the West of Germany. In addition Germany has one of the lowest birth rates in the world, and the population is overall shrinking. As a result Erfurt lost a tenth of its population in just over a decade. But since 2003 the city is slowly recovering. Renovated houses and construction sites like the one behind this Smart are an indicator for a growing population. It's a bit like Tom Cruise's take on Jack Reacher: The car almost looks intimidating.
Another unequal pair. A beloved classic build by socialists stares down a Trabant 601 Universal.
This picture makes me angry. Cars are getting bigger and bigger because of safety and new equipment we're told! I call BS! Take a good, hard look at this Punto. Despite the fact that it looks like a surfboard sucked on by a great white, it's fine! I'm assuming, carmakers are copying cereal packages now. At home you find out that the box is 30% too big. And still all the shady ingredients are printed very small or are missing completely. You just feel like you are buying a bigger product, so they can charge you more. For what? Air wrapped in sheet metal? I have enough of this insanity! Let's conquer some squares and burn up old tires. We can be the dreamers Jared Leto talked about!
But then, I'm german. Protesting isn't my thing although I'm constantly moaning. And our squares are already seized for drinking hard and urinating in public. So where should we go to after all?
Okay, I quickly move on to something pretty. I'll end this walk with a proper Lifestyle-Laster. I love the first CLS generation. I think it's one of the best cars Mercedes have ever made. The newer version can't live up to it; The front is too angled, and particularly the side is kind of a mess with those busy lines. That's debatable of course.
What is absolutely safe to say though, is that the backside is smooth like a worry stone. I had a hard time not feeling up a stranger's car.
This should be enough for now. I do have more pictures, and if you were interested, I'd upload them in a separate article.